T. 305.743.0399 | F. 305.743.4392
EC1187
Open Monday through Friday 9:00 am- 5:00 pm
Emergency Calls 305.393.0971
A. M. Companies - P.O. Box 510889 - Key Colony Beach - FL 33051
A. M. Electric located in Marathon, Florida services the Middle Florida Keys from Big Pine Key, Marathon, Key Colony Beach, Duck Key, Long Key, Islamorada, Florida.
Listed below are some tips to save money on your electric bill.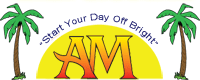 For more savings, call A. M. Electric for a complete energy analysis. We will test your panel, inspect your wiring, and see what appliances are consuming the most energy.
These are only a few tips to save on our Florida Keys electric bills:
Start with changing all your bulbs to the new energy efficient fluorescent bulb - CFL (compact fluorescent lamp). The initial cost is a little high, but you will see a decrease in your energy bill the first month.
*****Be sure you do not purchase the CFL bulb that contains mercury vapor - read the label. We have found that Phillips makes the CFL which is environmentally safe.****
Turning off lights can save you up to $275.00 a year.
Get in the habit of unplugging appliances and devices that are not in use. For instance, a cell phone charger, a camera battery charger, or a printer. When these devises are plugged in, they draw electricity which is wasted money. A good idea is to use a power strip for these devices and turn them off all at one time.
A. M. Electric can install programmable thermostats to conserve air conditioning use when you are away from your home - also dimmer light switches can save you money.
Using a timer for interior and exterior lights is another energy saving trick.
Installing and using ceiling fans helps the air conditioning unit and saves you money.
A. M. Electric will check inside the breaker panel for a bad breaker or loose connection.
We know you don't have time but realize the need to change your "old" ways. Let A. M. Electric save you money by giving your home or business a complete "energy savings" work-out...trim that fat by calling A. M. Electric's office manager to schedule a service call.
Copyright A.M. Electric, Inc. Florida Keys 2011