T. 305.743.0399 | F. 305.743.4392
EC1187
Open Monday through Friday 9:00 am- 5:00 pm
Emergency Calls 305.393.0971
A. M. Companies - P.O. Box 510889 - Key Colony Beach - FL 33051
A. M. Electric located in Marathon, Florida services the Middle Florida Keys from Big Pine Key, Marathon, Key Colony Beach, Duck Key, Long Key, Islamorada, Florida.
Successful project completion depends on an experienced Electrical Contractor who delivers excellent service, within budget and on time. A. M. Electric has earned a solid reputation and customer loyalty by attention to detail on every job.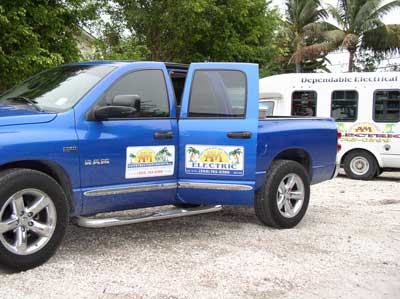 We take the time to assess your project needs, identify and estimate the optimal type and quality of materials required to complete the work. Then prepare accurate time and cost estimates. Our range of services include commercial electrical contracts; fire alarm systems; home automation installation; industrial electrical contracts; commercial and residential lighting; residential electrical wiring; Florida Keys' rental code upgrades; landscape lighting; and energy saving systems.
Call our friendly office manager to schedule an appointment with Armand Messina, Master Electrician for your new installation's estimate.
By hiring a Licensed and Insured contractor, A. M. Electric, you will have peace of mind knowing that the project will be done by someone who has taken the time to acquire the appropriate education, has the necessary experience, the proper workers' compensation and liability insurance.
Copyright A.M. Electric, Inc. Florida Keys 2011