T. 305.743.0399 | F. 305.743.4392
EC1187
Open Monday through Friday 8:00 am- 5:00 pm
A. M. Companies - P.O. Box 510889 - Key Colony Beach - FL 33051
A. M. Electric located in Marathon, Florida services the Middle Florida Keys from Big Pine Key, Marathon, Sombrero, Tingler Isle, Key Colony Beach, Duck Key, Long Key, Islamorada, Florida.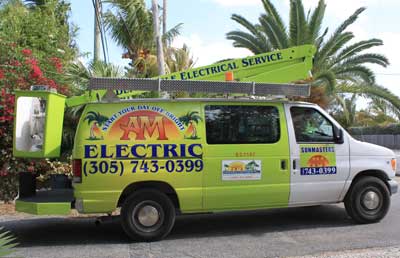 In the Florida Keys, repairs to electrical wiring is not uncommon. We live in a corrosive saltwater environment - hence, the need to upgrade your interior or exterior wiring.
A. M. Electric's professional staff handles all types of electrical work such as adding and repairing existing electrical wiring systems. Our service department provides 24/7 emergency dispatch. Our trucks are kept well-stocked so that we can provide a quick and efficient service call to minimize your inconvenience.
Call our friendly office manager to schedule a service call for any electrical repairs needed to your home or business. A. M. Electric is a licensed and insured Florida Keys electrical contractor and owned by Armand Messina, Master Electrician.
By hiring a licensed and insured contractor, A. M. Electric, you will have peace of mind knowing that the project will be done by someone who has taken the time to acquire the appropriate education, the proper workers' compensation and liability insurance and possesses the necessary experience.
Copyright A.M. Electric, Inc. Florida Keys 2011