T. 305.743.0399 | F. 305.743.4392
EC1187
Open Monday through Friday 8:00 am- 5:00 pm
A. M. Companies - P.O. Box 510889 - Key Colony Beach - FL 33051
A. M. Electric located in Marathon, Florida services the Middle Florida Keys from Big Pine Key, Marathon, Sombrero, Tingler Isle, Key Colony Beach, Duck Key, Long Key, Islamorada, Florida. Call our friendly office manager for an appointment to talk about any type of electrical remodel project. Our electrical contracting company here in the Florida Keys provides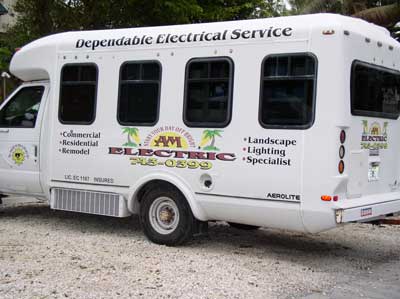 new wiring for fans - lights - light switches - appliances; installation of computer systems; telephone and television wiring; landscaping lights; all your electrical needs..
Remodeling projects include demolition of the old wiring and upgrading the electrical panel. A. M. Electric correctly re-wires the appliances, installation of ceiling fans, installation of outlets and switches. Often, our crew will "crawl the attic" to replace the old wires with new and modern materials.
Let us assist you or your design team in selecting the correct lighting and controls such as: motion sensors; time switches; photo-controls, standard or high-end dimming systems. Commercial and residential service upgrades & remodels. Since 1998, the team at A. M. Electric has provided electrical contracting skills and services for General Contractors, homeowners, and property management.
Remodels in homes and businesses always includes some type of electrical work. A. M. Electric is a Licensed and Insured Florida Keys Electrical Contractor. Armand Messina and his staff can work with the other contractors to help get your remodeling project completed in a timely manner.
We want you to know that A. M. Electrical Contractor Company also owns Sumasters A. M. Hurricane Shutters.
Copyright A.M. Electric, Inc. Florida Keys 2011